Helltek Inc. - electronic security - www.helltek.com
Metal Detectors
Hand Held Metal Detector Body Scanner - only $29.

Hand held metal detector designed to meet requirements of the security industry
and an inexpensive search tool for security, school and public safety personnel.


Boyz packing guns can't aim. Innocent people get hurt.
Lawyers aim good. Don't make your business their target.





INTRODUCTION

The HD001 Handheld Metal Detector with sensitivity adjustment is designed to meet requirements of the security industry. Typical uses will include body search for offensive weapons in crowd control, airport and border security, detention centers, prisons, checking parcels and letters for metal objects, school and public safety, night clubs and anywhere that hidden metal needs to be detected.

OPERATION

The HD001 operates on one 9 volt standard alkaline, lithium, or rechargeable battery. To install the battery, slide off the battery cover and place battery into its compartment matching the +/- symbols.

Turn the unit on by pushing the on/off switch until it clicks, and the green LED is lit. The detector is factory calibrated and operational right out of the box, although an increase in sensitivity and depth range can be adjusted by turning the sensitivity adjuster (clockwise) until the LED turns red and a constant audio sound is heard. Turn the sensitivity adjuster back (counter-clockwise) until the red LED just turns green again and the tone fades out. The detector is now tuned for optimal sensitivity and depth range.

Holding the unit with the detection face towards the surface, sweep forward and backward continuously at a height 1 inch above the area to be scanned. The presence of metal will be indicated by the audio warning tone and the red light coming on. If the detector is held still over a metal object, the detection signal will automatically reduce, therefore it is important that the unit is continuously moved, scanning the surface when in use.

PERFORMANCE

The sensing distance is determined primarily by the size, shape and composition of the object to be detected.

Hand gun .......... up to 10 inches
Knife ................. up to 5 inches
Razor blade ....... up to 3 inches

SPECIFICATIONS

Power: 9V battery
Operating current: under 50mA
Operating Frequency: 25kHz
Operating temperature: 25 to 130 degrees Fahrenheit
Net weight: 0.5 lb
Dimensions: 15-3/8"(L) 2-1/2"(W) 1-1/8"(H)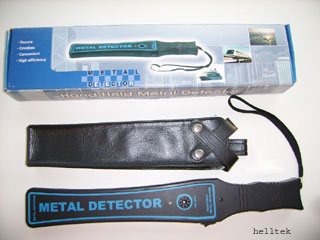 Back to Top

|

More...

Additional Security & Safety products available in Alarm section of our website.


Prices and availability are subject to change without notice.
Liability and warranties limited to the value of equipment ONLY.

This website uses pop-up windows and per-session cookies. If you have pop-up blocker installed on
your computer, or your computer rejects cookies, you won't be able to place items into the shopping cart.

We do not collect any information and we do not spam our customers. We appreciate your business.

---
Access Control | ATM Card Access | EAS Systems | ID Products | Burglar Alarm | CCTV Video | Guard Equipment | Special Purpose | Home Automation | About...
Search | Links