Helltek Inc. - electronic security - www.helltek.com
Commercial Burglar Alarm Systems
Vandal theft tamper damage protection wire mesh cages for motion sensors,
smoke detectors, bells, sirens, wall clocks, emergency lights, indoor outdoor
light fixtures, exit signs, polycarbonate enclosures for keypad, thermostat,
spare keys, fire extinguisher battery powered theft alarm, exit door alarm.




24 Hours monitored security systems for small business, large corporations, entire floors and whole building protection.
Honeywell - Ademco Security Systems - leading brand for nearly a century.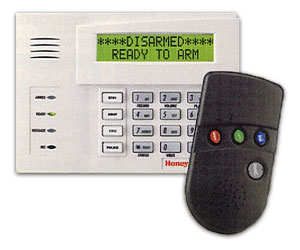 Ademco Alphanumeric Keypads display user prompts and system status messages in plain English.



| | | | |
| --- | --- | --- | --- |
| | | | |
| 6160 Alphanumeric keypad | 6160V Talking "Voice keypad" | 6128 Fixed English keypad | 6139 Alphanumeric keypad |

The "brain" of each system is mounted in metal enclosure, installed out of sight.
Vista series controls support both - wired and wireless sensors and keypads.



Back to Top
Theft, vandalism, tamper and accidental damage protection for motion sensors,
smoke detectors, carbon monoxide CO detectors, bells, sirens, strobes,
and protection for clocks, exit signs and emergency lights in gym or playground.
Wall mounted motion sensor and carbon monoxide CO detector cage

Ceiling mounted smoke sensor or
round carbon monoxide CO detector cage

Bell, siren, speaker, strobe light
spider web shaped
wire mesh cover

Clock or round fluorescent light fixture wire cage
damage prevention for gym

Exit sign wire cover
damage stopper
light guard

Emergency lights
protective
wire mesh cage


Each unit is constructed of 9-gauge steel wire with corrosion resistant polyester coating.
May be spray painted prior to installation to match decor.

Installation Guide PDF (285k)


Wire Cage protection for Emergency Light Fixtures

Wire Cage protection for Exit Signs

Wire Cage protection for Bells, Wall Clocks, Round Light Fixtures

.

.

Wire Cage protection for Motion Detectors

Wire Cage protection for Smoke Detectors

Testing Approvals: UL and cUL Listing
Underwriter Laboratories No. S3504 for any UL Listed detector,
does not require any sensitivity adjustment.
California State Fire Marshal No. 7300-1416:100.
MEA approved #49-00-E.

Polycarbonate covers for Thermostat tamper protection

Polycarbonate covers for Alarm Keypad and Fire Pull Station protection

Large Polycarbonate covers for Alarm Cabinets, Equipment Enclosures
and AED (Automated External Defibrillator) protection

Battery powered Shoplifting Theft Prevention Alarm, Cabinet Alarm, Fire Extinguisher Alarm
activated by Pull apart pin or Magnetic contact, Door Alarm, Break Glass Key Keeper

Blue-Glow Photoluminescent "Glow In The Dark" Fluorescent Light Fixture Lenses
Provide additional safety & security in dark places in case of power failure

When lights go out
Photoluminescent lens installed in fluorescent ceiling light fixture provides enough illumination to safely exit building. Excellent for dark hallways, staircase, utility rooms, closets and bathrooms. Imagine being in the bathroom at blackout. Not a pleasant experience.

Glow in the dark
Acrylic sheet doesn't require power. The photoluminescent material absorbs light when the light fixture is on, and emits soft blue glow when the light is off.
Sheets come in 24"x24" and 24"x48", or can be factory trimmed to fit as drop-in replacement.

BlueGlow Sheet 24"x24" (trimming required)

BlueGlow Sheet 24"x48" (trimming required)

Sheets are available factory trimmed to fit as drop-in replacement. Email us your required dimensions with order.

Custom trimmed sheets are not returnable. Take good measurements.
Remove and measure the existing fixture lens.

Back to Top

|

More...


Prices and availability are subject to change without notice.
Liability and warranties limited to the value of equipment ONLY.

This website uses pop-up windows and per-session cookies. If you have pop-up blocker, or a "security toolbar"
installed on your computer, or your browser rejects cookies, you may experience problems with the shopping cart.

We do not collect any information and we do not spam our customers. We appreciate your business.

---
Access Control | ATM Card Access | EAS Systems | ID Products | Burglar Alarm | CCTV Video | Guard Equipment | Special Purpose | Home Automation | About...
Search | Links